Ararat in 3 days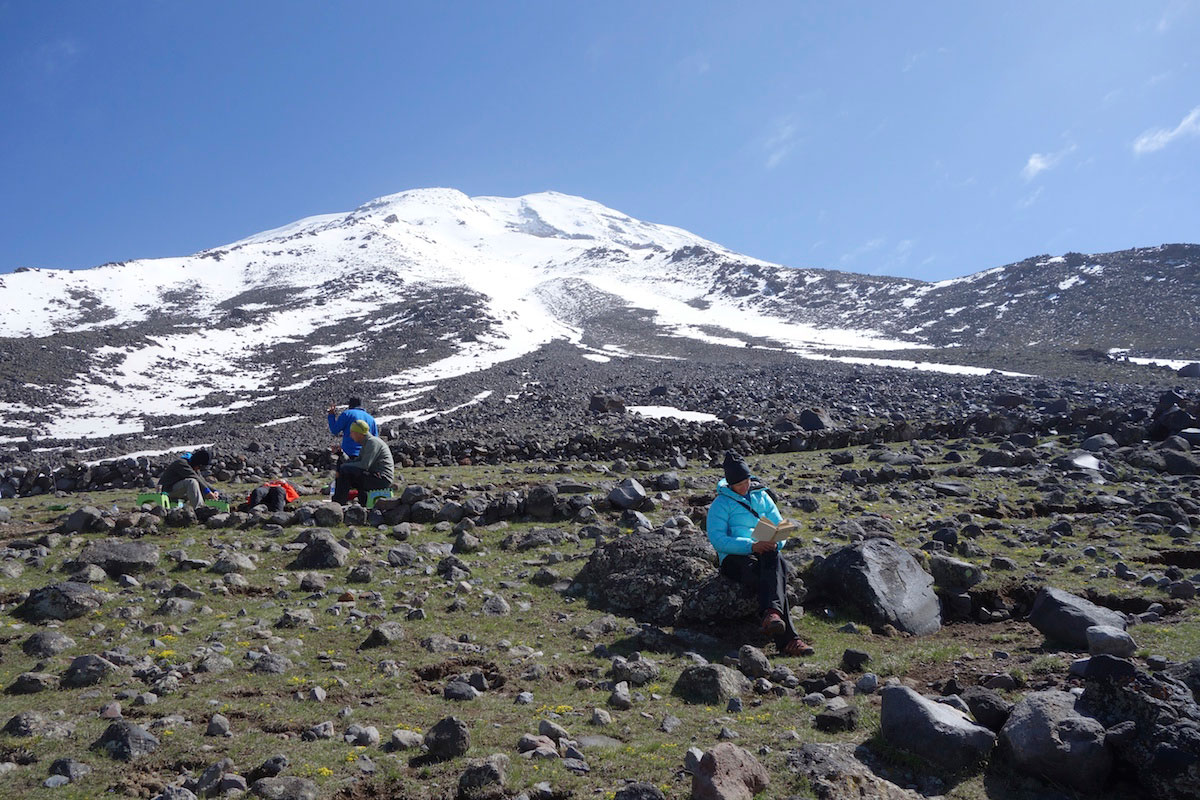 | | |
| --- | --- |
| Height (m) | 5165 |
| Duration | 3 days |
| Difficulty | Moderate |
[vc_row][vc_column][vc_tabs][vc_tab title="About the tour" tab_id="1467099141798-f62783f3-b1986c63-75e3″][vc_column_text]
Well-acclimatized climbers in excellent physical shape can take a shorter itinerary for climbing Mount Ararat.  This short itinerary can be used also as an excellent sequel to any other ascent with our company. For instance, Ararat climb may follow an Elbrus, Kazbek or Damavend ascent.
[/vc_column_text][/vc_tab][vc_tab title="Schedule and Services" tab_id="1467011141870-f0234d2e-bb416c63-75e3″][vc_column_text]Day 1.  Arrival at Dogubayazit followed by a ride to the village of Eli and hike to the camp at an elevation of 4100m.
Day 2. Early start for Ararat climb and descent to our vehicles for a ride to Dogubayazit.
Day 3. Reserve day. Night flight home.
The price of Ararat climbing tour includes:
Mountain guides (in the proportion of 1 per 4 climbers)
All transfers mentioned in the itinerary
Permits for climbing
Meals all through the climbing (prepared by a cook), but only breakfasts when in cities.
Mules for taking the equipment to camps.
The price of Ararat climbing tour does not include:
International and local flights
Personal gear
Medical insurance for mountain climbing
Lunches and dinners in the cities
Expenses incurred by any changes to the mentioned itinerary
[/vc_column_text][/vc_tab][vc_tab title="Dates and prices" tab_id="1467099158232-8ab3cecd-fdeb6c63-75e3″][vc_column_text][dates][/vc_column_text][/vc_tab][vc_tab title="Equipment" tab_id="1467099160313-c1669adc-364e6c63-75e3″][vc_column_text]Equipment[/vc_column_text][/vc_tab][vc_tab title="Book a trip" tab_id="1467099161031-24198b14-61f36c63-75e3″][vc_column_text][gravityform id="2″ title="false" description="false" ajax="true"][/vc_column_text][/vc_tab][vc_tab title="Gallery" tab_id="1467099161771-7cd33468-f85a6c63-75e3″][vc_column_text]Gallery.[/vc_column_text][/vc_tab][vc_tab use_icon="yes" title="Ask a question" tab_id="1479984754865-6-9″ icon="fa-edit"][vc_row_inner][vc_column_inner width="1/3″][/vc_column_inner][vc_column_inner width="1/3″][vc_column_text][contact-form-7 404 "Not Found"][/vc_column_text][/vc_column_inner][vc_column_inner width="1/3″][/vc_column_inner][/vc_row_inner][/vc_tab][/vc_tabs][/vc_column][/vc_row][vc_row][vc_column][/vc_column][/vc_row]