Kilimanjaro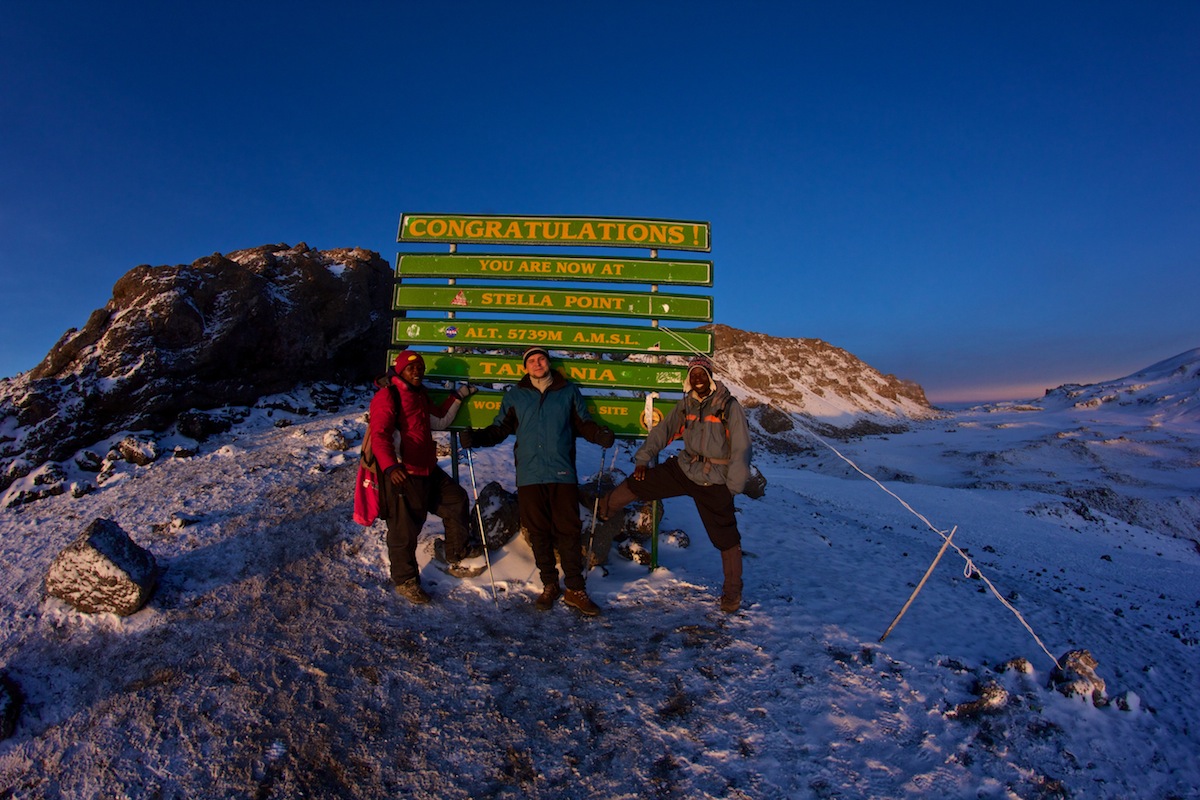 | | |
| --- | --- |
| Height (m) | 5895 |
| Duration | 6 days, 7 days |
| Difficulty | Low |
6-Day Itinerary to Climb Kilimanjaro by Marangu route.
Day 1: the first day of climbing Kilimanjaro starts with a ride to the Marangu Gate National Park (1,800 m). From that spot we will head for our first destination, to Mandara Hut (2,727 m), through a most scenic rainforest with most spectacular vegetation and fauna. At the park's gate our Kilimanjaro guides will help you sort out the luggage and equipment to be carried up by porters. Before entering the NP all visitors have to fill in their identification details in the park register. Mandara is situated just below Maundi Crater (at an elevation of 2, 800 m, a 15-minutes' walk from the camp) on the forest belt border. At night it gets pretty cold there, with temperatures near freezing levels.
Day 2: the second destination in our expedition to climb Kilimanjaro is Horombo Hut (3,720 m). After an early breakfast we'll set off for a short trek to the forest's border to enjoy amazing views of the South-Eastern slopes of Kilimanjaro and Mawenzi (5,149m) if it is a clear day. Then our trail of a gradual gradient passes through a moorland. By early afternoon, we'll get to Horombo Hut (at 3,720 m) and after having a meal and rest, spend some time exploring the area and climbing the ridge that obstructs the view of Mt. Mawenzi (5,149 m). Temperature in the area drops well below freezing point during the night, so, getting into warm sleeping bag early in the evening and getting up early in the morning to a quick wash and a bowl of hot water is a good idea.
Day 3: about three-hours' hike to Mawenzi Hut (at an elevation of 4,600 m) as an acclimatization training that will ensure your success of climbing Kilimanjaro summit. This hike will give a gain of some 800+ meters in altitude. In an hour after start from Horombo Hut we will pass Zebra Rock – one of numerous incredible natural masterpieces on Kilimanjaro. At the junction the path turns east, towards Mt. Mawenzi (at 5,149 m). Proceeding along to the north we'll reach a junction with a memorial to Loretta Mae Hendricks. From this spot we can enjoy some of the most spectacular views, with the Saddle and Kilimanjaro's south-eastern slopes being the most eye-catching of them. Then we will come back to Horombo Huts to have rest and spend the night.
Day 4 of the expedition to climb Kilimanjaro is the one that precedes summiting. Planned for this day is a hike to Kibo Hut (4,703 m), to the Saddle's semi-desert landscape, with amazing views of Middle Red Hill, East Lava Hill and West Lava Hill as well as of the Barafu Hut camp to the west at an elevation of 4,600 m. After a short break for lunch about halfway through the Saddle, we will continue on to Kibo Hut, where we'll make our final preparations for the arduous summit bid – arrange our summit gear and turn in early to rise before midnight, at a temperature well below freezing.
Day 5: goal of the day is to climb Kilimanjaro, or, to be more precise, Uhuru Peak (5,895 m). It is the crater rim summit of Kibo, the highest of Mt. Kilimanjaro's three volcanic cones. This part of the climbing expedition is the toughest both mentally and physically, but you can count on support of our Kilimanjaro guides every minute of it. Since it is bitingly cold at night and early morning, we recommend that you wear thermal underwear, Gortex jacket and pants, and fleece jacket and pants on this day, since on the summit temperature can be as low as – 30 °C aggravated by wind-chill. The first section of the trail is rocky and winding up to Hans Meyer Cave (5,150 m), where we'll have a short rest to continue up an extremely steep section till Gillman's Points (5,685 m). This part of the trail is complex, requiring zigzag hike up a steep scree and rock face, which poses enormous physical and mental challenge. At Gillman's Point we will have another short rest, and carry on to the next destination – to Stella Point passing along the crater rim. Just above Stella Point we'll pass by glaciers that form the Southern lce fields – Rebmann, Decken, Heim and Kersten Glaciers. After about an hour's hike from Stella Point we will finally climb Kilimanjaro – its Uhuru Peak – and stand on the highest point on the African continent, at 5, 895 m! Once on the summit, we can spend there as much time taking photos as we like before heading back to Kibo Hut for a short rest and picking up the rest of our equipment and continuing the descent down the Saddle all way through to Horombo Hut where we'll spend the night.
Day 6: trekking back to Marangu park's gate after breakfast. On our way we'll have lunch at Mandara Hut (2,727 m) before heading through the forest to the Park's gate to take a ride back to the hotel.
7-Day Itinerary to Climb Kilimanjaro by Machame route.
This route allows to climb Kilimanjaro from the south-west, passing through an extremely beautiful rainforest and moorland and joining the Shira route, after which it traverses beneath the ice fields of Kibo on the south. On higher elevations we can enjoy views of Mt Meru floating on the clouds. The final ascent in climbing Kilimanjaro will be made by the Barafu route. A decade-long experience of our Kilimanjaro guides proves that a seven-day itinerary allows for excellent acclimatization, giving also enough time to enjoy the magnificent landscape and diverse scenery.
Day 1: arrival to Arusha followed by hotel accommodation.
Day 2: the expedition to climb Kilimanjaro starts from Machame Gate after a short ride to the spot. Machame village boasts spectacular banana and coffee farms. Our trail passes through a dense and beautiful mountain forest, where 96% of the water of Kilimanjaro area originates. The 3-4 hours' hike will get us to our first  destination – a camp near Machame Hut (at an elevation of 3,000 m). As the forest merges into a giant heather the gradient of the path becomes gentler.
Day 3 of climbing Kilimanjaro begins by a 4–5 hours' hike up a steep ridge heading first to Picnic Rock, a small semi-circular cliff, then to Shira Plateau. After Picnic Rock the trail becomes less steeply all way through until we reach Shira Hut (3,840m) near which we'll camp. The spot proves most spectacular views of Kilimanjaro and another huge volcanic cone of Kibo, along with Mt. Meru and beautiful rock formations of Shira Plateau.
Day 4: 6–7 hours' trek to the next campsite at an elevation of 3,950 m, at the bottom of Barranco valley, with trail of gentle ascent and on, to lava ridges below the Western breach. Reaching the elevation of 4,600 m near the Lava Tower junction, we'll descend to the campsite, surrounded by towering cliffs.
Day 5: 7–8 hours' hike to Barafu campsite (4,600m). The first section of the trail requires a steep climb up the Barranco Wall, followed by an undulating section on the south-eastern flank of Kibo. Then the terrain will change to scree, followed by a short, steep climb leading out of Karanga Valley. The last sections of the trail is covered with compacted scree and a steady climb. The rest of the day will be spend having rest and going to sleep early to get ready to summit Kilimanjaro.
Day 6 of the expedition to climb Kilimanjaro will begin as early as early as 1 AM. We will begin the climb with our torch-lights on. Our plan is to reach the Crater rim by sunrise. In 5–6 hours we will reach Stella Point (at 5,735 m) hiking at aslow but steady pace a steep path of loose volcanic scree with several well- graded zigzags. After a short rest there and meeting sunrise over Mawenzi. Those members of the group who would have energy enough can take a two-hours' round trek to Uhuru Peak (5,895 m) along the crater rim and passing by spectacular ice cliffs and glaciers that the summits area abounds in. Descent to Barafu is uncomparably easier and fast and it will get even more so after a short break. Finally, after a total of 11–15 hours of hiking we will reach the edge of Mweka Forest, our final campsite at an elevation of 3,100 m.
Day 7: the closing part of the expedition to climb Kilimanjaro requires just 3–4 hours of trekking and consists of a sustained descent through rainforest and up to the gate of National Park at Mweka (1,650m). Then, through coffee and banana plantations we will get to Mweka village where we will take a ride back to hotel.
7-Day Itinerary to Climb Kilimanjaro by Rongai Route.
Day 1: arrival and transfer to hotel for dinner, briefing with your Kilimanjaro guides and rest. 
Day 2: 3–4 hours' trek to Simba Camp. Climbing Kilimanjaro by Rongai route begins from Narumuru Gate(close to the Kenyan Border). We will take a ride to it from the hotel. The trek passes through Rongai Forest with lush and exotic vegetation. After leaving the forest, the vegetation will grow thinner. Dinner and overnight stay at Simba Camp.
Day 3: trek to Kikelewa Camp (3,800 m), with the first section of the trail passing through moor land scenery. For lunch we will stop at Second cave that is formed naturally from cooled lava. On our way we can enjoy views of Mt. Kilimanjaro summit and also that of Mawenzi. From this point on, there will be need in warm clothing. Overnight stay at Kikelewa camp.
Day 4: a 3–4 hours' hike to Mawenzi Tarn Hut (4,330 m) though rocky terrain with little vegetation. After having lunch and a short rest at the camp, we will take a 300-meter acclimatization hike that will be followed by dinner and night rest at the camp.
Day 5: hike to Kibo Camp (4,700 m) through the lunar desert-like terrain of the Saddle – a lava-covered expanse stretching between Mawenzi and Kibo peaks. By the evening we will reach Kibo Camp and turn in early to get up at midnight for the final effort of climbing Kilimanjaro and summiting it.
Day 6: to climb Kilimanjaro summit, we will wake up before midnight and set off after a hot drink and a snack to Horombo Huts, with the trail passing through Uhuru Peak (5, 895m). The 5-hour long hike consists of an increasingly steep scree section up to Gillman's Point (at 5,690 m), on the rim of the Crater, from which we can enjoy spectacular views of Rebmann Glacier located in the Crater. After another 1–2 hours' trek around the crater's rim, we will reach Africa's highest Uhuru Peak (5,896 m). By this time the sun will rise revealing amazing views of plains stretching below. Descending to Kibo Hut, we will have a short rest and lunch and head further down the Marangu Route, to Horombo Huts (3,720m) for overnight stay.
Day 7: heading back to Marangu Gate by the trail leading through the tropical rain forest with its spectacular flora and fauna. On our way we'll stop at Mandara Huts for lunch and will reach our final destination in the afternoon to take a ride back to the hotel.
Included in the cost of expedition to climb Kilimanjaro:
all transfers
rescue fees
park fees
camping fees
three meals a day on the mountain
Kilimanjaro guides' services
hotel (full board) preceding and following the climb
porters' and cook's services
tents
mattresses
mass tent (fully-equipped)
Not included in the cost of expedition to climb Kilimanjaro:
ips for Kilimanjaro guides, porters and staff
any kind of beverages – both alcoholic and non-alcoholic
personal medication and first aid kit
personal equipment