Aconcagua, 12 days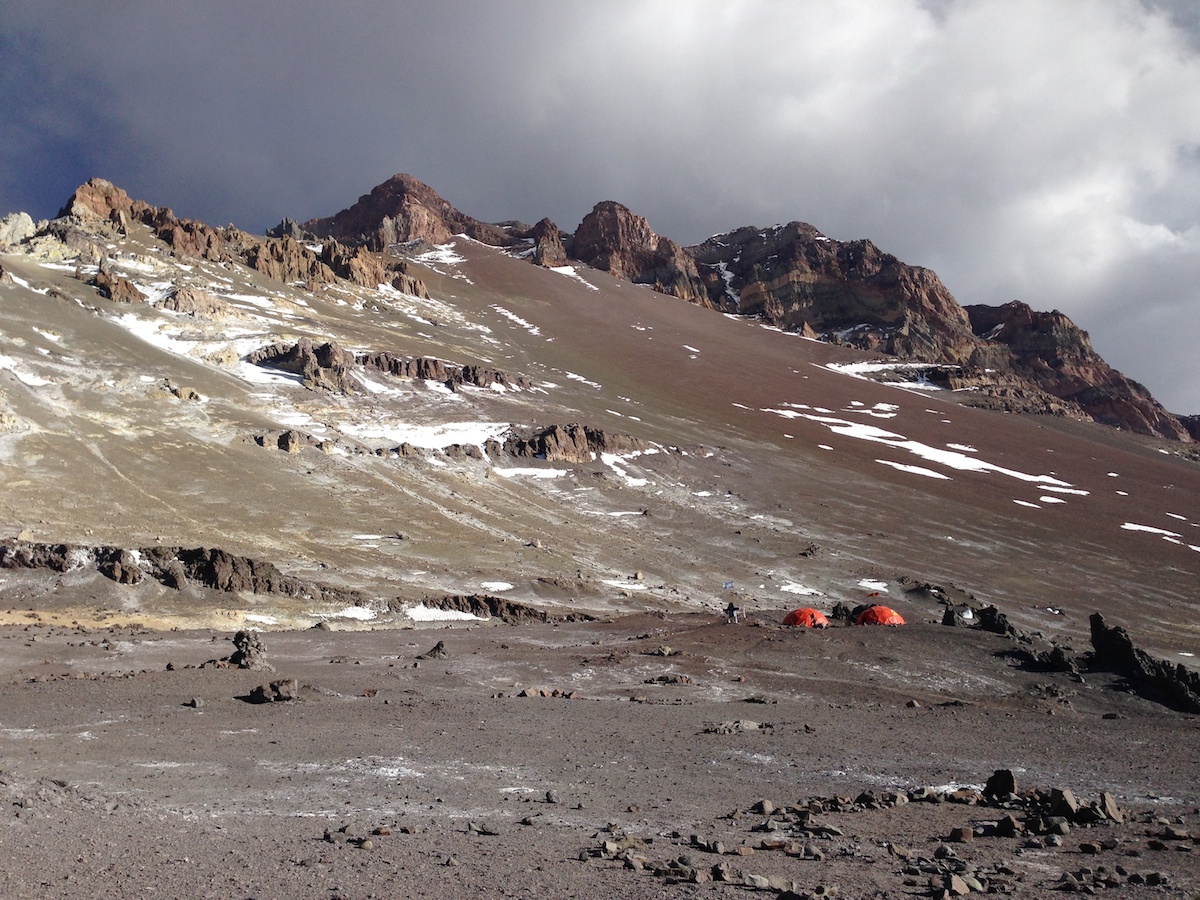 | | |
| --- | --- |
| Height (m) | 6957 |
| Duration | 12 days |
| Difficulty | Moderate |
$1.00
The short Aconcagua ascent program is well suited to alpinists in good physical shape with the experience of climbing above 5500m. If you don't have a proper mountain experience, we recommend to spend more time and take advantage of Aconcagua ascent classical program.
Aconcagua ascent program for 12 days is a shortened version of the classic Aconcagua ascent program. Acclimatization in this program has a much tighter schedule, so the mountain forgives you much less mistakes in tactics and physical preparation. Do not forget about the medical supervision at the base camp, where the doctor is required to check acclimatization degree of members and allows them to go to the mountain or doesn't allow. Of course, it is possible to abandon the national park responsibility, but in this case you lose the free rangers help in case of emergency. It can be added that, for obvious reasons, this program remains the most popular among all companies conducting Aconcagua ascent. The percentage of climbs is lower than in the three-week program.
Program of guided Aconcagua ascent by the classical route (14 days).
Day 1. Arrival to Mendoza. Important! On Saturdays office issuing permits is open only until noon! Obtaining the permit to Aconcagua. Transfer to Penitentes (2700m). Sending the main cargo mules to Base Camp. Hotel.
Day 2. Transfer to the entrance of the National Park (Laguna Horcones) and proceed to the Confluence (3300m, 2-3 hours). Camp. After lunch, a light acclimatization walk.
Day 3. Early acclimatization radial walk to the Plaza de Francia (4200m), with views of the South Face (2700m high). 4-5 hours. Return to the camp.
Day 4. Long jump (8-9 hours) to the main base camp Plaza de Mulas (4350m). The path runs along the wide valley of Playa Ancha. Camp.
Day 5. The transition from Plaza de Mulas Camp-1 (Plaza Canada, 5000m) or higher (5300m camp). Descent to the Base Camp.
Day 6. Rest day in Plaza de Mulas (4350m).
Day 7. Climb from Plaza de Mulas (4350m) to Camp 1 (Plaza Canada, 5000m)
Day 8. Climb from Plaza Canada in Nido de Condores (5600m)
Day 9. Climb from Nido de Condores (5600m) to Camp 3 (Cholera, 6000m).
Day 10. Aconcagua summit ascent (6957m), descent to Camp 3 (6000m).
Day 11. Reserve day in case of bad weather
Day 12. Reserve day in case of bad weather
Day 13. Descent to Plaza de Mulas Base Camp. Transition from the Base Camp to the Laguna de Horcones. Transfer to Mendoza. Recreation and farewell dinner.
Day 14. Departure.
The cost of Aconcagua ascent includes:
Russian-speaking guide throughout the whole program
Mountain guides. One per 3-4 people in the day of ascent
Transfer airport-hotel-airport
Hotel in Mendoza, 1 night. Double room + breakfast
Assistance in obtaining necessary permits
Transfer Mendoza-Puento del Inca-Mendoza
Hotel in Puento del Inka + breakfast
Mules for equipment and food from Puente del Inca (Los Puquios) to Plaza de Mulas and back. The personal baggage maximum of 20kg.
Two nights in Confluence with full board
The base camp at Plaza de Mulas (5 nights)
The food and fuel for the upper camps
First-aid kit
The cost of Aconcagua ascent doesn't include:
International flights
Climbing permit
Porters
Personal equipment
Additional costs associated with deviation from the program
Health insurance and expenses relating to evacuation in case of accident
Personal expenses (drinks, internet, telephone calls, etc.)
Equipment for Aconcagua ascent
Documents
Valid passport
Airline tickets
Medical Insurance
Personal equipment:
Backpack. 50-60l
Sleeping bag, comfort temperature from -25C to -15C
Mat
Trekking sticks
Crampons, can be aluminum
Ice ax. Classic, on self-insurance. Can be lightweight or combined with a ski stick.
Helmet
Safety system
Carbines, 3pcs
Mug-spoon-bowl
Clothes and footwear:
Mountaineering Double or triple boots. Double: plastic or leather. Among plastic ones we recommend Scarpa Vega – seem to be the warmest of all double shoes.
Sneakers or trekking boots. Ideally, both. Sneakers for the track in the base camp, light boots – for acclimatization exit and base camp. Although you can have sneakers only.
Waterproof layer – Jacket + trousers. The industry offers a wide range of products from simple membranes 5000/5000 to products from Gore-Tex.
Fleece costume.
Thermo underwear layer – top and bottom
Thick and warm down coat.
Thick gloves.
Thin gloves.
Bandana (in addition to protection from the Sun in the valley can be used to warm your throat or face in the cold)
A cap.
Warm trekking socks for the day of the ascent.
Miscellaneous:
Diode headlamp
Sunglasses
Ski goggles
Thermos – 1L. Preferably without a button in the lid.
Windproof mask for the lower part of the face (partly can be replaced with a scarf)
Gaiters
Sunblock and lip balm
Chemical heaters (not necessarily, but can be very useful)
Personal first aid kit
Elastic bandage and / or supporting bandage.